Alexandria Misha
Voice Actress and PR Ninja
Alexandria
When not wearing one of my many indiedev hats, you can find me in the corner knitting geeky things, playing overwatch, or reading books under a pile of blankets. My skills include late-night learning on Youtube, extreme caffeine tolerance, and putting too many books on hold at the library. 🙂
Click Me!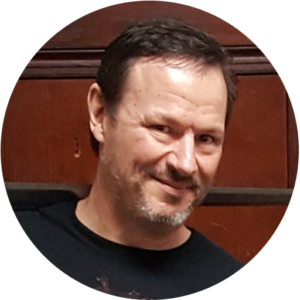 Rob Elam
Founder and coding demon
Rob
I have been making games for 30+ years... I should take a break. Well, maybe after a few more games 🙂 Besides being lead on One Must Fall fighting games, I worked with some great folk on Planetside 2. I also dabble in billiards, golf, martial arts, and a little philosophy here and there.
Click Me!
MindWalker Games
Welcome! We're still working on getting the site up and running, please pardon the dust!
MindWalker games is a dedicated team of two working on making badass indie games. Presskits for Onslaught VR and Sentinels are coming soon!
Want to get in touch? Email me anytime at alexandria@mindwalkergames.com, or scroll down and use our handy contact form.